Due to supply chain disruptions and new warehouse safety measures some shipments may be delayed up to 72 hours.
Pressure-Sensitive Identi-Label Sets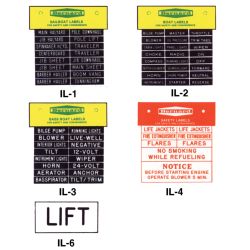 For safety and convenience, pressure-sensitive labels mark all important lines, controls and compartments on most boats.
Labels will stick to any clean, smooth surface. "Lift" labels are a set of four which mark the lift points or sling locations on each side of the boat. "Boat" labels come in a set of 24 identifying Bilge Pump, Throttle, Forward, Blower, etc.
Bass Boat labels are a set of 16 labels including Live Well, 12-V, Aerator, Tilt, Bilge Pump, etc.
Sailboat labels are a set of 16 labels including Main Sheeet, Jib Halyard, Pole Lift, etc.