Marine Color/Gloss Restorer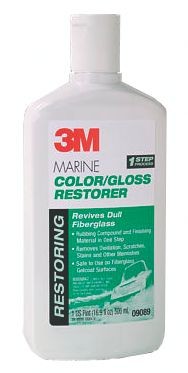 Marine Compond and Finishing Material
This product is the equivalent of 3M's original Imperial Compound and Finishing Material (now called Marine Compound and Finishing Material) in retail Marine packaging.
It is a compound/polish that combines a fast cutting compound with a fine finishing material.
It removes light to heavy oxidation, scratches, stains, blemishes, and fine swirl marks that compounding normally leaves behind on fiberglass gelcoat.

Restores gelcoat gloss
Saves time and effort by combining compounding and polishing into a single step
Contains no wax or silicone
Use by hand, or with a wool pad on an electric/air powered machine (1500-2500 rpm)
Follow-up with Scotchgard Marine Liquid Wax to maintain the gloss

Note - The chemistry of this product is not designed for use on paint.
For painted surfaces, use 3M Perfect-It Rubbing Compound #06085.