Due to supply chain disruptions and new warehouse safety measures some shipments may be delayed up to 72 hours.
Petroleum Spill Kit P-SKFL31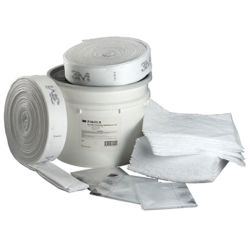 Can be stored indoors or outdoors.
Easily identified by its bright white color.

Packed in an element resistant 20 gallon drum.
Combines both folded sorbent materials and high capacity pads which allows for selection of product for each response situation.

Kit contains:
(2) P-FL550DD petroleum sorbent folded rolls (19" x 50 ft fully opened)
(30) HP-156 petroleum sorbent Pads (17" x 19")
(3) Temporary disposal bags and ties
20 gallon drum and plastic closure ring

Note - sorbent contaminated by hazardous materials must be properly handled and disposed of according to federal and local regulations.