Due to supply chain disruptions and new warehouse safety measures some shipments may be delayed up to 72 hours.
Heat Shrink Ring Terminals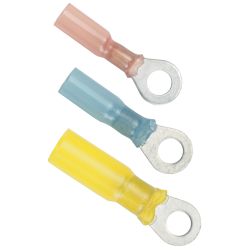 Ancor provides a full line of adhesive-lined heat shrink products to enviromentally seal electrical connections. The adhesive lined heat shrink connectors insulate and protect connections from mechanical abuse, wire pullout, moisture intrusion and abrasion. The heat activated adhesive melts and flows under pressure from shrinking to create a seal which resists water, oil, gasoline, and other enviromental contaminants.
Tinned for corrosion resistance
Pure copper for maximum current flow
Brazed seam for maximum strength

22-18 gauge is Red, 16-14 gauge is Blue and 12-10 gauge is Yellow.