Due to supply chain disruptions and new warehouse safety measures some shipments may be delayed up to 72 hours.
Tinned Copper Battery Terminals Set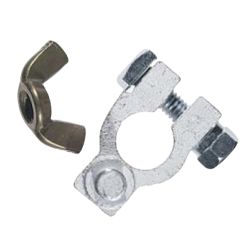 Wing Nut Style - Yellow Brass Nut Includes both Positive and Negative
Ancor now provides copper battery terminals which are 100% tinned and don't come loose or lose conductivity like lead terminals. Lead terminals are much softer and can loosen due to "cold flow" of the metal and are more subject to oxidation which leads to dangerous power losses. Tinned copper terminals are up to 40% more conductive than lead terminals for optimum performance, especially with high amperage devices like inverters and windlasses.